All Aptitude Tests Package
BEST VALUE - SAVE over 80%!
Prepare for CEB/Gartner (SHL), Watson Glaser, Saville Assessment, Kenexa, Cubiks, Talent Q, TalentLens (Pearson), RANRA and more. Buy now and get instant online access for 30 days!
Learn more
197 Tests
3146 Questions
One-off payment
Logical Reasoning
Assesses your ability to identify relationships, patterns, and trends in a series of images that follow a logical sequence or underlying rules.
Learn more
15 Tests
150 Questions
One-off payment
What you get with all our tests and packages
30-Day unlimited access

Suitable for preparing for CEB/Gartner, SHL, Cubiks, Harver, Kenexa, RANRA, Saville, Talent Q, TalentLens, Watson Glaser and more!

Online timed test simulation for realistic practice

Detailed instructions and worked solutions for every question

Questions developed by industry experts

Personal performance system to track your progress
What is Logical Reasoning?
Logical Reasoning can be defined as a pattern of thinking wherein premises and the inter-relationships between these unique premises are rigorously put to the test in order to infer conclusions that are implied by synthesizing the premises and relationships. In principle, Logical Reasoning connotes the ability to engage in coherent, rational, and dialectic argumentation while being able to navigate between opposing views and incorporate objections into holistic conclusions.
Logical Reasoning Test
Logical Reasoning Tests assess your ability to rapidly formulate a variety of inferences while at the same time making proper use of deduction to figure out which line of reasoning is illogical and must be crossed out, and which line of reasoning is logical and may require further investigation to arrive at the right conclusion. Often Logical Reasoning Tests are administered under strict time constraints and it is up to the candidate to stay focused, relaxed and attentive to small details and large complex patterns.
At Assessment-Training.com we offer you realistic test simulations developed by tenured psychologists with years of experience in the creation of internationally certified and reputable tests for large publishers like CEB/Gartner, Kenexa (IBM), Talent Q, Thomas International, and Saville Assessment
To get your brain in the right logical mindset, here is a no-strings-attached Free Logical Reasoning Test with 10 questions and worked solutions. Click the link or image below to open up a new tab.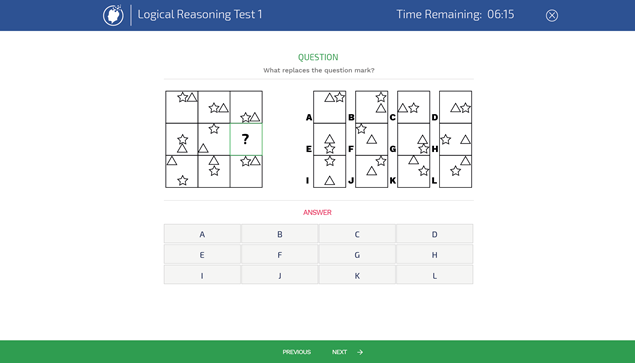 It is a common misconception that you can't improve your IQ test score! Klauer et al (2002) proved in a study of 279 participants that Logical Reasoning training improves fluid intelligence. So if you have an important assessment that puts your Logical Reasoning skills to the test, start practicing! Perfect practice makes perfect. We can help you excel at Logical Reasoning and help you ace your test. Our science-backed exercises in our tailor-made and hand-picked Logical Reasoning Test Package, created by our team of tenured business psychologists consists of 15 tests with 150 questions in total!
Logical Reasoning Questions
How To Improve Logical Reasoning?
Meaning of Logical Reasoning
What Can We Offer You To Help You Ace Your Logical Reasoning Test?