McKinsey Problem Solving Test
Practice pack featuring questions of the same style & difficulty of the actual PST. Prepare online, track your scores and ace your McKinsey test!
Learn more
4 Tests
104 Questions
One-off payment
What you get with all of our preparation packages
30-Day unlimited access

Online timed test simulation for realistic practice

Detailed instructions and worked solutions for every question

Questions developed by industry experts

Personal performance tracking system
What is a McKinsey Problem Solving Test (PST)?
McKinsey Problem Solving Tests are a typical part of the selection process, or for development within the workplace. The McKinsey Problem Solving Test, also called PST, is among the most difficult standardized tests. The PST is a math computation, data interpretation, and logical thinking test that is used to determine which candidates are granted a first round case interview. Candidates are often invited based on their resumes and in order to get to the interview, you often need to pass this test.
McKinsey specifically uses this test to assess the numerical computation and logical thinking skills that are required in consulting. These are the skills that allow you to read a graphical chart, data spreadsheet, and understand what provided data is conclusively telling you and separate this from what the data is suggesting (but not definitely so).
The PST is set up in such a way that the skills needed for everyday work as a consultant at a top management firm are analyzed. However, while the test is designed to test your numerical computation and logical reasoning skills, it is not designed to test either your memory skills or business knowledge.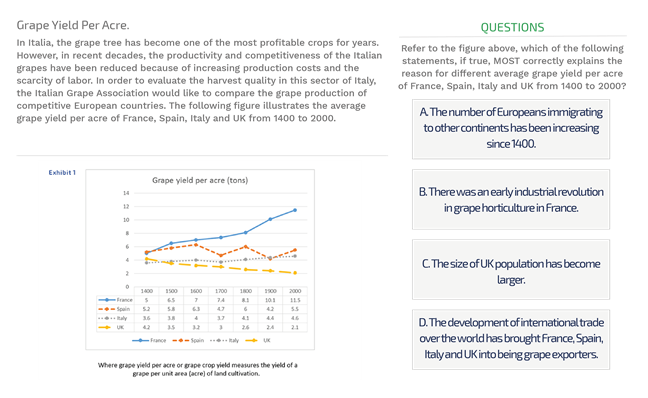 Example of a McKinsey Problem Solving Test question.
The right answer to the question above is B. 
Answer option B describes the reason why France has a continued increase in average grape yield per acre when compared with other European countries during the period from 1400 to 2000.
Option A refers to the number of European immigrating, which cannot explain why there are differences in average grape yield per acre between the four countries.

Option C can only explain an increase in market size as well as labor force of the UK. 

Option D only provides an impact of the development of international trade over the world on the grape production of the four countries. 
What does the McKinsey PST Practice Package offer?
What you should know about the McKinsey PST
Tips and Tricks to ace your McKinsey PST
Why Assessment-Training.com?