Seating Arrangement questions are a form of Deductive Reasoning where people, objects, and items, are (rank) ordered following the acceptance of a number of premises and/or rules. Excelling at this form of Deductive Reasoning necessitates astute mental visualization abilities.
Learn more
5 Tests
50 Questions
One-off payment
All Aptitude Tests Package
BEST VALUE - SAVE over 80%!
Prepare for CEB/Gartner (SHL), Watson Glaser, Saville Assessment, Kenexa, Cubiks, Talent Q, TalentLens (Pearson), RANRA and more. Buy now and get instant online access for 30 days!
Learn more
197 Tests
3146 Questions
One-off payment
What you get with all of our preparation packages
30-Day unlimited access

Online timed test simulation for realistic practice

Detailed instructions and worked solutions for every question

Questions developed by industry experts

Personal performance tracking system
Seating Arrangement Reasoning
Seating Arrangement Reasoning type of questions require the candidate to arrange people, animals, objects, and items in a specific way according to a number of "accepted premises and assumptions" regarding their relative placements and positioning. With seating arrangement questions, you will also frequently have to arrange things in a competitive (race) context. Think of situations where people are ranked from first to last, best performing to least performing, fastest to slowest and you will most likely find it in a Seating Arrangement test.
Our Seating Arrangement test Preparation Package consists of 5 tests with 50 questions with worked solutions. Our modern and prestigious e-learning platform is well suited to bolster your assessment test skills and help you rise to the challenge of being a part of the top 20% of people that pass Seating Arrangement Reasoning exams.
To lift a tip of the veil, we have combined a representative no-strings-attached FREE Seating Arrangement Practice Test with 3 questions and solutions! Click on the link or on the image below to open up a new tab!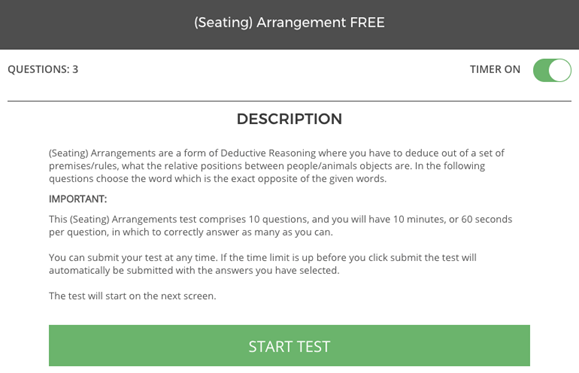 Keep on reading for:
A thorough analysis of Seating Arrangement examples
Seating arrangement Tips and Tricks.
How to improve your Assessment Test scores!
Seating Arrangement Examples
Seating Arrangement Reasoning Tricks
How to Improve Seating Arrangement Test scores
Why practice Seating Arrangement tests at Assessment-training.com?