Logical Reasoning
Logical Reasoning Tests, also called critical reasoning tests, are designed to measure problem-solving abilities and non-verbal skills. These tests assess a candidate's ability at skills such as how to interpret patterns or the relationship between shapes.
Available for 30 Days

15

Tests

150

Questions

Personal progress tracking system
Add to cart
USD $14.95
How does Logical Reasoning work?
Does your job application require you to pass a logical reasoning test? Don't worry we've got you covered! Assessment-Training.com offers realistic test simulations developed by psychologists with years of experience designing tests for large publishers such as CEB/Gartner, Talent Q, Saville Consulting, Kenexa (IBM) and Thomas International.
Logical reasoning tests assess your ability at skills such as how to interpret patterns or relationships between shapes. They have much in common with abstract reasoning, diagrammatic reasoning and inductive reasoning tests. All these tests categories are included in our All Tests Package to help you ease worries and anxieties about the tests by familiarizing yourself with them.
By clicking the image below, you can practice 10 free questions of our logical reasoning practice tests: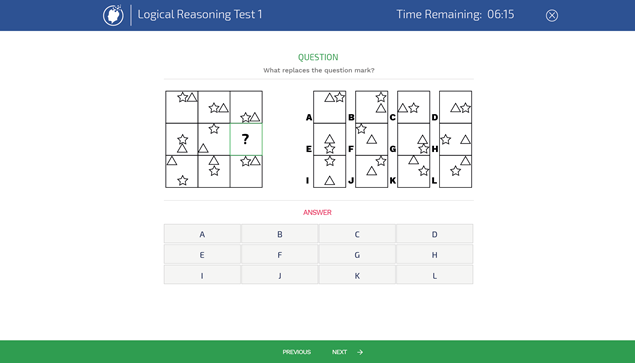 What does a Logical Reasoning Test assess?
What you should know about Logical Reasoning Tests
Tips and tricks to ace your Logical Reasoning Test
More Categories
Logical Reasoning