Spatial Reasoning
The Spatial Reasoning Tests measure your ability to mentally re-arrange, rotate and manipulate shapes or objects. Train your mental capabilities and familiarize yourself with this test category by practicing with 8 tests and 64 questions.
Available for 30 Days

8

Tests

64

Questions

Personal progress tracking system
Add to cart
USD $14.95
How does Spatial Reasoning work?
Does your job application require you to pass a spatial reasoning test? Don't worry we've got you covered! Assessment-Training.com offers realistic test simulations developed by psychologists with years of experience designing tests for large publishers such as CEB/Gartner, Talent Q, Kenexa and TalentLens.

By clicking the image below you can practice 10 free questions of our spatial reasoning practice tests: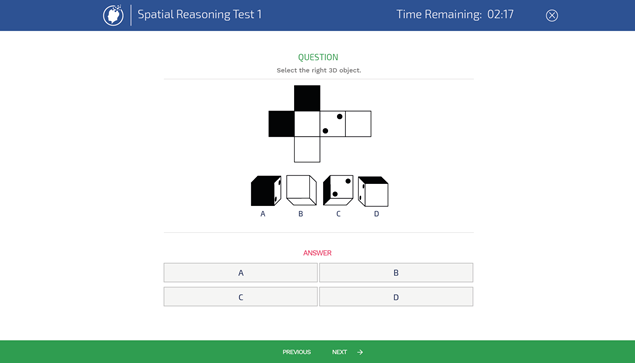 What does Spatial Reasoning assess?
What you should know about Spatial Reasoning Tests
Tips and tricks to ace your Spatial Reasoning test