Seating Arrangement Reasoning type of questions require the candidate to arrange people, animals, objects, and items in a specific way according to a number of "accepted premises and assumptions" regarding their relative placements and positioning. With seating arrangement questions, you will also frequently have to arrange things in a competitive (race) context. Think of situations where people are ranked from first to last, best performing to least performing, fastest to slowest and you will most likely find it in a Seating Arrangement test.
Our Seating Arrangement test Preparation Package consists of 5 tests with 50 questions with worked solutions. Our modern and prestigious e-learning platform is well suited to bolster your assessment test skills and help you rise to the challenge of being a part of the top 20% of people that pass Seating Arrangement Reasoning exams.
To lift a tip of the veil, we have combined a representative no-strings-attached FREE Seating Arrangement Practice Test with 3 questions and solutions! Click on the link or on the image below to open up a new tab!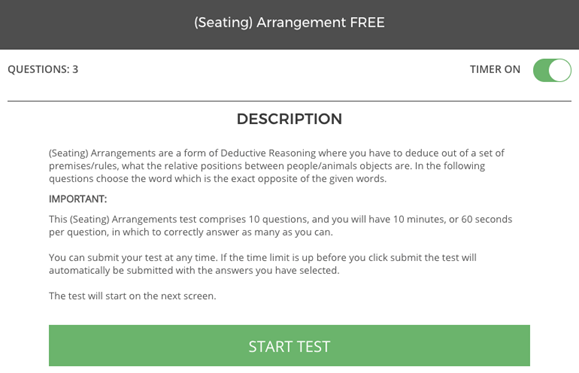 Keep on reading for:
A thorough analysis of Seating Arrangement examples
Seating arrangement Tips and Tricks.
How to improve your Assessment Test scores!